Have A Basement or Foundation Problem? We Have Solutions
Have A Basement
or Foundation Problem?
We Have
Solutions
What Are The Benefits Of Using
Foundation Specialists?
Let's Get Started On Your Project Together
Fill Out Our Form To Get A Free Estimates
Our Foundation & Basement Services in Michigan
Michigan's Basement Waterproofing &
Foundation Professionals
We have over 25 years of experience working in the basement, foundation, crawl space repair and waterproofing industry, and we will be able to take care of whatever kind of problem your home is experiencing.
We offer convenient appointment scheduling, and we will work around your busy schedule to finish projects on time. We also believe in being honest with our customers so they can depend on us for all their wet basement repair, foundation settlement repair, and crawl space encapsulation needs. What's more, is that we also provide cracked concrete wall repair and foundation replacement services for western MI homeowners.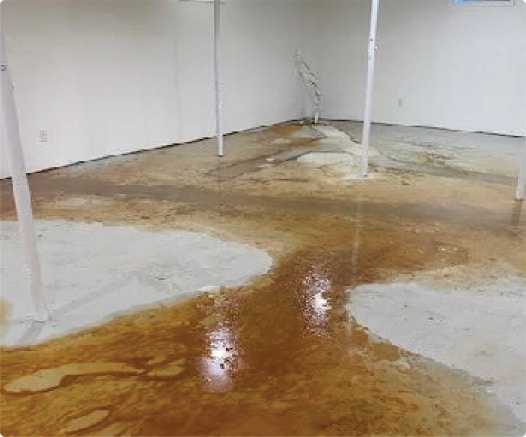 Over 25 Years of 5 Star Service
Whether your job is big or small, our team at Foundation Specialists won't stop until the job is done right. No high-pressure sales, just solutions for your home that do the job.
That's what sets us apart.
Our team has over 25 years of experience working with Michigan homeowners to keep their homes safe and dry. We are committed to providing each customer with the solutions they need and work that meets our quality standards.
IF YOU'RE IN NEED OF FOUNDATION WORK, SEARCH NO FURTHER!
If you're in need of foundation work, search no further! I  had discussions with multiple companies in West MI for my basement water issues, and Foundation Specialist was BY FAR the best company. Mike R was super knowledgeable, very easy to talk to and work with, and extremely professional. Mike and team worked through my situation with me in a way that allowed us to try less invasive …
Loren C. – Grand Rapids, MI
When you need basement waterproofing services, you need them ASAP to limit how much moisture damage is done to your walls, floors, and belongings stored here. We can install various
waterproofing products
, including sump pumps and drain systems, to help keep this area underneath your home dry, safe, and healthy. We offer Zoeller
primary and backup sump pump systems
and Flat-Track and Drain Main products.
Foundation Repair & Settlement
We can provide you with effective and professional
foundation repair services
if you have a problem with the base of your home. We use Grip-Tite® carbon fiber, wall anchor systems, as well as Stabil-Loc® foundation piers. We have seen it all when it comes to structural problems, so regardless of whether you have a sinking home,
bowed walls
, or some other kind of foundation problem in between, we guarantee that we will be able to help.
Bowed walls
are caused by hydrostatic pressure in the soil pressing in on your foundation walls. Depending on the severity of the problem, Foundation Specialists offer several solutions to repair bowed walls, including wall anchor systems, carbon fiber strips, and I-beams to repair and improve the structural integrity of your home. These bowed wall repair methods prevent further bowing of your foundation walls.
Crawl Space Encapsulation
When it comes to
crawl space encapsulation
, we promise that we will be able to seal this area off so that it never again lets moisture inside cause problems. We can install vapor barriers, floor liners, dehumidifiers, and sump pumps to ensure that this area below your home stays dry and free of high humidity levels. A sealed crawl space means no
mold growth
and that unwanted critters won't be able to get inside.
Latest News From Foundation Specialists
Whats New? Concrete Leveling & Lifting
That's right! We now offer concrete leveling and lifting as one of our many services!
Uneven and sinking concrete can cause major issues for home and business owners. Not only can people get seriously injured from trips and falls, but property values decline due to the lack of visual appeal. Luckily, our team of specialists can help!
Foundation Specialists


Foundation Repair & Waterproofing
Contractor in Michigan
Main Office


1518 Steele Ave SW
Grand Rapids, MI 46507
Contact Us Online