Crawl Space Supports Installed in Western Michigan
Foundation Specialist can provide strong crawl space supports for your Western Michigan area home. If you have a crawl space that was damaged by water or mold, we can install supports to help with holding up the weight of your home. Crawl space moisture can be seriously dangerous, and it can cause the wooden support beams and floor joists below your home to rot, warp, buckle, and decay.
We realize that this is not something you want to deal with, and it can be incredibly frustrating to know that your crawl space is in such poor condition. However, your crawl space isn't beyond repair, and we can install a support system to help hold up the weight of your home and even the first floor of your house so that it doesn't sink anymore.
Many Michigan homeowners call us regularly and want to know if they have a damaged crawl space and what warning signs could indicate a problem. Crawl space water damage occurs whenever this area is not sealed off. An unsealed crawl space will let in excess moisture and humidity. This moisture causes damage to the wooden materials, as mentioned earlier, and this can be very inviting to termites, roaches, and other unwanted critters. Also, the humidity and water can lead to nasty and dangerous black mold growth.
If you notice any of the following warning signs of a damaged crawl space, you need to get in touch with us immediately for a consultation and help:
We use Grip-Tite crawl space stabilizers to ensure your floors don't have any more sagging problems. 
We know that there are other crawl space repair companies in the Grand Rapids and Kalamazoo area that you could choose to do business with. However, we feel that our professionalism, attention to detail, and our knowledgeable and friendly employees is what sets us apart from the competition. When it comes to crawl space repair, we can take care of damaged wooden support beams and floor joists, and we will make sure that the problems never come about again.
To do this, we will need to perform crawl space encapsulation. CS encapsulation involves the installation of vapor barriers, sump pumps, floor liners, and dehumidifiers to help keep out abundant amounts of moisture and humidity. When you have a sealed crawl space, you will never again have to worry about moisture getting underneath your home and causing damage.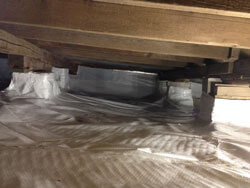 As a Michigan homeowner, we know that you are budget-conscious and you don't want to spend a fortune to take care of this problem. However, we want you to know that we will do our best to provide you with the very best value. We can't give you an estimate over the phone or online. You will need to call us to schedule a consultation. During your consultation, a crawl space repair tech will be sent to your home to evaluate the damage. He will then be able to give you a quote for the job, and he will even walk you through the repair and waterproofing process so that you won't be left in the dark.
Contact Our Experts For Sagging Floor Repair Services
Our team of experts can help you keep your floors from sagging with crawl space supports. To schedule a crawl space inspection and estimate for sagging floor repair you can contact our experts online or by calling 616-438-0551.