Concrete Leveling & Lifting
Professional Concrete Leveling and Lifting Services
Foundation Specialist is your go-to expert for all concrete leveling and lifting needs in Grand Rapids, Kalamazoo, Lansing, Grand Haven, Holland, and surrounding areas. We specialize in lifting and leveling uneven and sinking concrete, ensuring your property is not only visually appealing but also structurally sound. Our advanced polyjacking technique is perfect for permanent quick repairs and is ready to use immediately.
Get Great Looking Concrete In 4 Simple Steps
Getting great looking concrete and eliminating tripping hazards around your property is simple and can often be completed in as little as a day. Learn about our poly injection concrete lifting process below.
Step 1: Drill Small Holes
Holes are drilled in strategic locations around the sunken concrete slab.
Step 2: Lift The Concrete
Our team will then inject a specially formulated expanding foam underneath the concrete slab to raise it back to level.
Step 3: Patch Drill Holes
After the concrete is lifted our team patches the holes with a non-shrinking grout.
Once the grout is dry our team will spray the concrete off and clean up the newly leveled area for you to use.
Why You Should Fix Your Uneven Concrete Now
Addressing uneven concrete around your home or commercial property as soon as possible is crucial. Uneven concrete surfaces pose significant safety risks, such as tripping hazards, which can lead to accidents and injuries for both residents and visitors. Addressing these issues quickly will fix any hazards while also preventing further deterioration and sinking of the concrete slabs.
In addition to this, uneven concrete can negatively impact the aesthetic appeal and overall value of your property. By fixing these issues with Foundation Specialist's expert concrete leveling and lifting services, you're investing in the longevity, appearance, and safety of your property.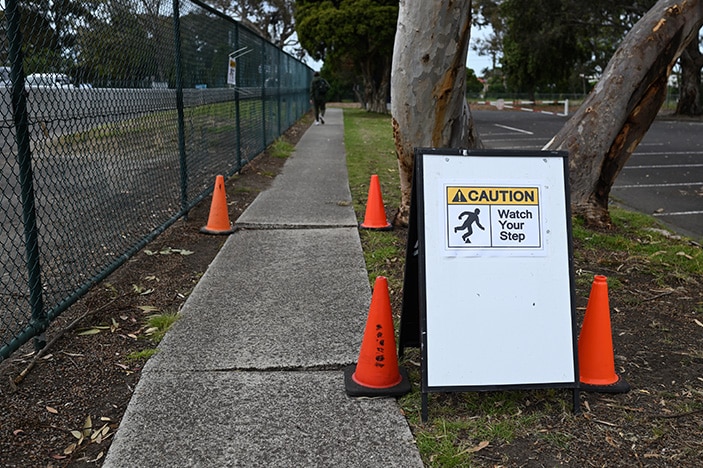 Concrete Leveling Applications
Our concrete leveling services cover a wide range of areas on both commercial and residential properties commonly affected by uneven and sinking concrete, including:
Sidewalks & Walkways
Driveways
Concrete Steps
Patios
Pool Decks
Parking Lots
HVAC & Utility Pads
Garage Floors
Basement Floors
Office Floors
Warehouse Floors
Shipping & Receiving Docks
Understanding the Causes of Sinking Concrete
Concrete settling can be attributed to a variety of factors, each contributing to the shifting and unevenness of concrete slabs. One primary cause is the insufficient or improper compaction of the base material before pouring the concrete. This oversight can lead to the slab further compacting the base post-curing, resulting in rapid settlement. Additionally, climate plays a significant role. For instance, the extreme cold experienced during Michigan winters causes slabs to expand and heave due to frost, leading to uneven settling once the ground thaws. Conversely, in hot and dry conditions, expansive clay soils can shrink, causing the slabs to settle, and then shift unevenly when they re-expand with moisture.
Erosion also significantly impacts concrete stability. Factors such as damaged water lines, improperly positioned downspouts, and heavy rainfall can wash away the underlying base materials, leading to slab settlement. In environments with heavy machinery or traffic, the constant vibrations and loads can compact the base underneath the concrete, causing the slabs to shift or settle.
Contact Us for Concrete Leveling in Grand Rapids, Kalamazoo, Lansing, and Surrounding Areas