Cracked Concrete Wall and Floor Repair
If your basement or foundation walls have cracks in them, the cracks must be investigated by an expert to help diagnose the cause and implement a repair that can prevent any future damage. The underlying causes of foundation and basement wall cracks are generally from the soil expanding and contracting during the seasons or something pressing against the wall such as large tree roots. If the cracking becomes severe enough, it could eventually lead to leaks in the basement.
Our team can find the cause of the problem and then work on implementing a repair. We install carbon fiber repair products manufactured by Rhino. The carbon fiber strips we apply to the wall cracks are strong, stronger than steel, and can help ensure the basement or foundation cracks will not grow anymore and prevent future damage to your house.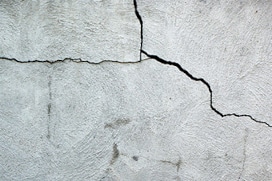 How We Repair Cracked Concrete Walls and Floors
Our team uses a patented carbon fiber crack repair process to seal wall cracks completely and to prevent them from becoming larger. In addition to this, we employ a different system for repairing cracked floors. This system uses a tensioned rod to pull the crack together, preventing further cracking and spreading any floor cracks.
Carbon Fiber Crack Repair
The carbon fiber crack repair process starts with our team identifying any cracks that you may have in your basement walls. Once identified our technicians will begin prepping the wall to receive the carbon fiber treatment and epoxy binding resin. This system of crack repair was developed by rhino carbon fiber to withstand even the toughest pressures. Once the crack is sealed with the carbon fiber and resin the repair process is done. This method of repair is permanent and will keep any cracks in your wall sealed while also providing needed structural support for the walls.
The concrete floor repair process starts by identifying any cracks in your concrete floor. Once identified, our team can begin preparing the floor to receive the concrete crack lock. These locks are designed to keep any cracks in your concrete floors from growing larger.
Contact Our Experts For Basement Wall and Floor Crack Repair
Our team of experts can help you repair any cracked walls in your foundation. We have the experience you need to complete the job correctly the first time. To schedule an inspection and estimate for wall and floor crack repair, contact our experts online or call 616-438-0551.