Interior Basement Waterproofing
Interior Basement Waterproofing Services

Foundation Specialist can install effective 
interior basement waterproofing systems
 in homes in the 
Western Michigan
 area. As a Michigan homeowner, you need to be doing everything that you can to keep your home in good shape, both inside and out. Regardless of how new or old your home may be, if you have a 
leaky basement
, you need to get it taken care of immediately before it causes serious problems for the rest of your home.
The interior basement waterproofing systems and products we install have proven time and time again to be effective at keeping water out of the lowest-lying areas of a home. We know that you might not have a finished basement, and you might only use this area of your home as a place to store old sports gear, holiday decorations, old clothes, photo albums, family heirlooms, furniture, and so on.
However, it doesn't really matter what you use your basement for, if you have excess basement moisture, it's going to cause a lot of headaches for you in the not so distant future. Our dual system which is created with both a drain tile and a footing system is designed to provide optimal protection against basement leaks.
How We Repair Wet Basements
When you need wet basement repair, you need to turn to the basement waterproofing professionals at Foundation Specialist. We cannot stress enough just how important it is to act fast when you have a leaky basement. Basement moisture can cause the wooden supports and floor joists below your home to warp, rot, buckle, and decay. Needless to say, this is going to cause some serious problems for the structural integrity of your entire home. If you put off taking care of the problem for too long, there could even be dangerous black mold and bacteria that starts to grow. The spores are released into the air and up into the living areas of your home. When your family breathes in this contaminated air, it can cause everything from breathing problems to skin rashes, and all types of health problems in between. To determine which kind of waterproofing system is best for your home, we will send a basement tech out for a consultation. He will be able to pinpoint the cause of your basement leaks and suggest the best solution to take care of the problem for good. Foundation Specialist offers the following types of basement waterproofing systems for Michigan homeowners:
4″ Round Drain Tile
The 4″ round reinforced triple wall engineered drainage system is made from strong, durable materials which were designed to stand up tough in your basement environment. This drainage pipe system has been installed by FS in thousands of homes in the greater west MI area and is proven to be extremely effective at moving water to your sump pump, where it will then be pumped out and away from the foundation of your home permanently. Also included is a lifetime transferable warranty at no additional cost!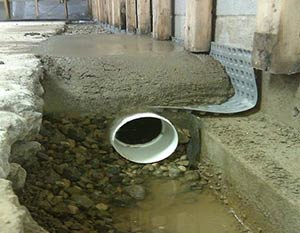 Specially Designed for New Construction
QuikFlo
QuikFlo is an advanced French drain product designed specifically for new construction and other specialty basement waterproofing solutions. The 4″ x 2″ square engineered designed pipe drains the maximum amount of water in silt, sand and clay soils. The large-hole design collects water from under the floor slab and channels it into the sump pump basin.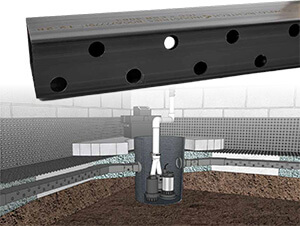 Specially Designed for New Construction
On the Footing Drain
On the Footing Drain waterproofing system never restricts water intake since it has an open back design. It also was engineered to collect water from the floor wall seam with its two rubber seals. It uses the pressure to drive water into the sump pump. This waterproofing drain system will also never clog since it's installed on top of the footer and not in the dirt. This waterproofing system is great for new construction projects with minimal hydrostatic groundwater.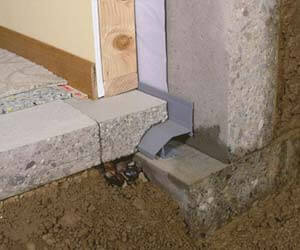 Dehumidifiers
These systems from AprilAire will be able to control the amount of moisture in the air (humidity). Several different sizes are available, and we will help you to choose the best one based on your home's size and unique needs.
AprilAire E100 Basement Dehumidifier
Quiet operation
Ultra-High capacity
Low temperature operation
Automatic Operation
Removes Up To 100 Pints/Day
Made In The USA
Prevents Mold & Wood Rot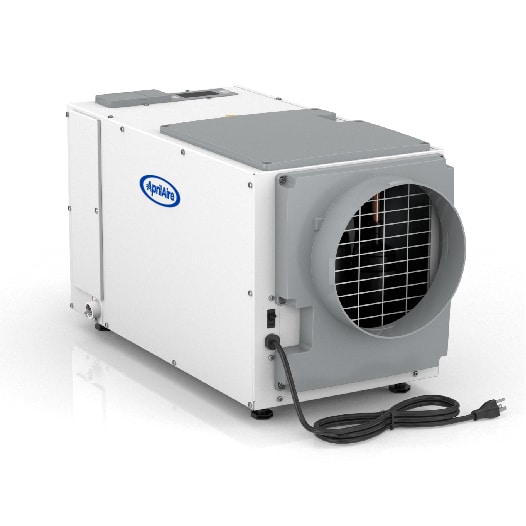 AprilAire E070 Crawl Space Dehumidifier
Quiet operation
High capacity
Low temperature operation
Automatic Operation
Removes Up To  70 Pints/Day
Made In The USA
Prevents Mold & Wood Rot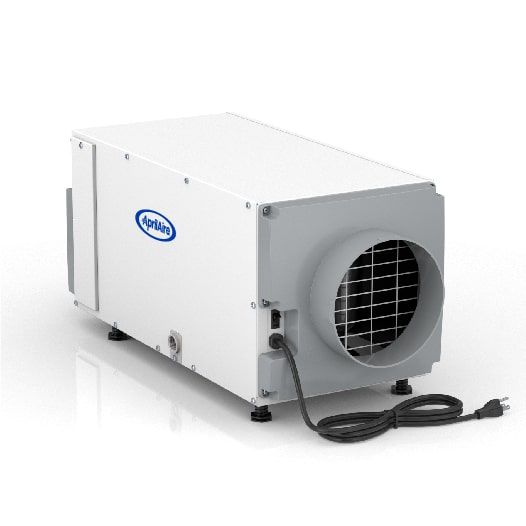 Contact Our Experts For Professional Interior Basement Waterproofing Services
Our team of experts can help you keep your basement dry with professional basement waterproofing services. To schedule an inspection and estimate for interior basement waterproofing you can contact our experts online or by calling 616-438-0551.