Professional Crawl Space Encapsulation
Foundation Specialist can provide you and your family with crawl space encapsulation for your Western Michigan area home. If you have a crawl space underneath your home, odds are likely that you don't spend a great deal of time thinking about it or worrying about what kind of condition it may be in. However, Michigan homeowners need to understand that their crawl space can play a huge role in how healthy the rest of their home is. We know that you may think that it doesn't matter if you have a crawl space that floods regularly, or if there's mold growing down there. You never have to go down there, so why does it matter?
Crawl space moisture can lead to some serious problems that could have an effect on your entire home. A leaky crawl space can cause wooden support beams and floor joists to rot. This means that the materials helping to support the weight of your home are going to be severely damaged. What's more is that this moisture can lead to the growth of hazardous mold and bacteria. The mold spores will be released into the air and up into the living area of your home. When your family breathes in this contaminated air, it can cause everything from headaches to asthma attacks, and many other kinds of serious health problems that you should never have to deal with! We also can't fail to mention that an unsealed, wet, and moldy crawl space is very inviting to unwanted pests, such as termites, roaches, rats, snakes, and other critters that you certainly don't want living underneath your home!
Crawl Space Insulation
As part of our total encapsulation services, we will use expanding spray foam to add extra insulation to the crawl space. This foam is applied to the small cracks and crevices at the top of your crawl space and between the floor joists. Normally, many companies will leave this area open because the encapsulation products they use will not fit the oddly shaped areas. By applying the expanding foam, it can fill all the small air gaps and help ensure there is no outside air making it into the crawl space. This will help with the overall encapsulation as well as making the area completely protected from the elements.
Crawl Space Waterproofing
When it comes to crawl space waterproofing, we will be sure that this area below your home is completely sealed off so that moisture won't be able to get inside and cause problems whenever it rains or when there's melting snow on your lawn. Crawl space waterproofing can sometimes be called crawl space encapsulation, and this involves the installation of vapor barriers, floor liners, and even sump pumps and dehumidifiers may need to be installed for total protection against leaks and humidity problems. We guarantee that when we leave your home, you will have a dry, safe, and healthy crawl space that will be free of mold, bacteria, moisture, and water damage.
Before and After Pictures
Vapor Barriers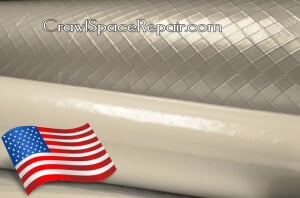 Foundation Specialist will install high-quality vapor barriers during the encapsulation process. These barriers will be attached to the walls of your crawl space to help seal it off. We can provide you with the following types of vapor barriers:
12 Mil SilverBack™
The 12 Mil SilverBack™ vapor barrier is one of the most popular barriers sold in the U.S. It is made in America and is thick, much like a plastic material. It's made from strong virgin polyethylene resin and is string reinforced. It's 100% inert, meaning that there are no VOCs or off gassing. It was also specially-designed to be able to resist mold and mildew growth.
20 Mil SilverBack™
The 20 Mil SilverBack™ material makes for a premiere vapor barrier. It is also made from virgin polyethylene resin and is thick like a plastic material. It's naturally resistant to mold and mildew growth, and is also string reinforced for extra durability.
Both of the SilverBack™ vapor barriers are incredibly energy-efficient since they will help to keep hot/cold air out where it belongs. This means that your home's HVAC systems won't need to work as hard to keep your living quarters comfortable all year long.
Contact Our Experts For Crawl Space Encapsulation
Our team of experts can help you keep your crawl space dry with professional crawl space encapsulation. To schedule an inspection and estimate for crawl space encapsulation and waterproofing you can contact our experts online or by calling 616-438-0551.