Professional Foundation Replacement Services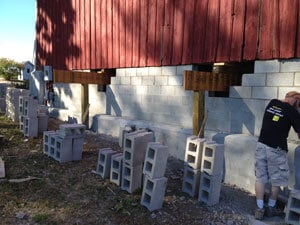 Foundation Specialist can provide you with fast foundation replacement in the Western Michigan area. Buying your home is likely the biggest investment you'll ever make during your life, and for this reason, you need to be sure that your foundation is in good condition so that it can support your home for years to come. It doesn't really matter how old or new your home is – if it's suffering from serious problems and damage, you need to get it taken care of immediately before the problem gets worse.
Homeowners in Michigan need to understand that foundation problems aren't something that is going to get better on their own. In fact, they're just going to get worse and cost more money to get fixed the longer you neglect them. To help save yourself a lot of time, hassle, and money, you need to call us ASAP to schedule a consultation for repair or replacement work.
If foundation repair is all that is necessary to take care of the problem, we will tell you. We believe in being honest and dependable foundation repair specialists that homeowners from all over the western part of the state can count on. We know that there are other structural repair companies in the area who will promise you the moon and stars, and tell you they can get your foundation repaired quickly and for a really low price. However, their materials are shoddy, and their repair techniques are even worse.
We promise that we will stand apart from these other so-called repair companies and provide you with the very best, most honest, and effective foundation work. We will have your home's base in good condition once again so you can get the peace of mind needed to know your foundation is going to be strong and secure for many years to come.
How We Repair and Replace Foundations
Our team uses a variety of methods for foundation replacement on homes and businesses in Michigan. In most cases the foundation replacement process involves the removal of the old foundation, while carfully supporting the structure, and the construction of the new foundation. In other cases, by using a method of concrete wall repair known as Shotcrete, we are able to repair the foundation and strengthen the structure of the home without the removal of the exsisting foundation.
Foundation Replacement Contractor
We are the foundation replacement contractor in Michigan that you can depend on to get your new base built fast and securely. The process involves jacking up and supporting your home so that we can replace the foundation below by building "sister walls." These are foundation walls that are built next to the damaged walls. Once they are finished being constructed, your home will be put back in place and you will have a strong and secure foundation that you can count on.
Often times, foundation replacement is necessary for older homes that have a failing support system because the walls were never built correctly to begin with, or because they're experiencing serious problems with bowing and leaning. Also, we can provide you with foundation building services if you are planning on adding a new room or two to your home. These rooms are going to need a strong base, just like the rest of the home. We will do our best to make sure that your new foundation wall is built quickly, efficiently, and for a price that will fit into your spending budget.
Contact Our Experts For Foundation Replacement Services
Our team of experts can help you repair any damage to your foundation. We have the experience you need to get the job done correctly the first time. To schedule an inspection and estimate for foundation replacement or repair you can contact our experts online or by calling 616-438-0551.