Professional Bowed Basement Wall Repair in Grand Rapids
Foundation Specialist is here to provide the best and most professional bowed wall repair in western Michigan. A bowing basement wall will appear as just a wall tilting and leaning into the basement of your home. It might look severe, or the bowing may not be that bad. We know how alarming it can be to see a leaning basement wall in your home, and this is why we are here to provide you with fast and effective foundation repair services when you need them.
Regardless of how serious you think the situation may be, contacting us immediately for a consultation would be best. During your consultation, we will send a foundation repair tech to your home to evaluate the damage and let you know what will be involved with the repair process.
Many homeowners call and e-mail us regularly, wanting to know the causes of bowed basement walls. Typically, this foundation problem will be caused by hydrostatic pressure in the soil surrounding your home. If the dirt around your foundation is rich in clay, it will be extremely absorbent whenever it rains or when you have melting snow on your lawn. When the soil absorbs the moisture, it will quickly swell up, putting a lot of pressure on your basement walls. Over time, this pressure (hydrostatic pressure) will cause your foundation walls to lean into the basement of your home.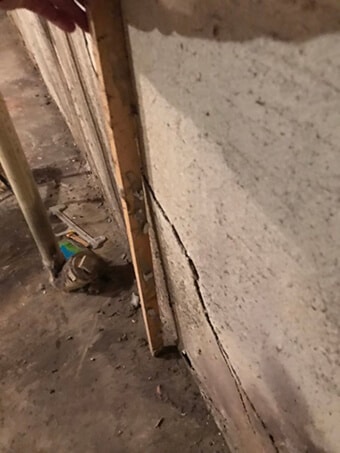 The severity of the problem will depend on how severe the pressure is and how well-built the wall was, to begin with. Regardless of how severe the bowing may be, we know we can handle the problem with Grip-Tite® carbon fiber, wall anchors, and I-beams. Total foundation replacement for bowing walls is no longer the only effective solution to this common structural problem.
How Our Team Repairs Bowed Basement Walls
Grip-Tite® wall anchors make use of proven engineering methods to secure and stabilize your failing basement wall or walls. This foundation repair system consists of a wall plate, wall anchor, and a steel rod to connect the two together. First, we will install the wall anchor in the soil next to the damaged basement wall. Next, we will install the wall plate on the inside of your home on the affected wall. Then, the two will be connected to each other with the strong steel rod. This rod can be tightened over time to add more lateral pressure to the wall to help push it back into position
Grip-Tite® carbon fiber is what we most commonly use to fix bowing basement walls in Michigan. This Carbon fiber was designed to seal, strengthen, and stabilize foundation walls. If your leaning basement wall has cracks, the fiber will be able to stop the problem from getting even worse. The material is warranted for 25 years, and it will provide your home with superior structural integrity and stability.
Steel I-Beams for Bowed Wall Repair
Our team uses Steel I-Beams for bowed wall repair in Michigan Homes. Our specially designed tension loaded bracing system, known as the Stabilizer Wall Strengthening System, was created to address the high amounts of force from damaged foundation walls. They are used as a major structural support system on homes that have failing foundation walls. The shape of the I-beam resembles an "I" shape, and they have a strong central core that is capped with flanges on either side. There are various lengths and sizes available with I-beams, and these are commonly used to fix even the most severe bowing wall problem. They are less likely to bend or warp when compared to wooden alternatives, and they are not as intrusive.
The Force:Tension Loaded Supports
The Force is a patented system that is a structural tension-loaded, steel I-beam reinforcement system. It is designed to straighten block or concrete walls over time. Not an alternative to other bowed wall repair methods, The Force is recommended in more extreme cases of concrete crack repair where the bowing is in excess of 2-inches or the wall has severely shifted.
Without excavation or homeowner assistance, The Force's unique I-beam/spring-coil design helps straighten walls over time. Unlike other bracket-based systems, The Force utilizes a tension-loaded spring design that supplies a constant 1000-pound force on the wall.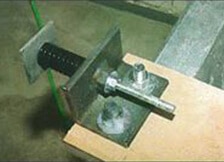 Contact Our Experts For Bowed Wall Repair
Our team of experts can help you repair any bowing or buckling basement walls in your home quickly and permanently. We have the experience you need to get the job done correctly the first time. To schedule an inspection and estimate for bowed wall repair you can contact our experts online or by calling 616-438-0551.