Post & Beam Repair Services in Michigan
Have you noticed sagging floors at your home in Michigan? Consider repairing your basement's support posts or beams. Most houses in Michigan are supported by columns and beams that can crack, weaken, or corrode over time. This wear and tear can endanger the structural integrity of your home. Lucky for you, Michigan's basement waterproofing & foundation professionals at Foundation Specialist LLC can help. Our team can replace steel beams, wood beams, support beams, and more.
It's essential to have rotting wooden timber beams or columns replaced in your home's basement or crawl space to maintain your house's structural integrity. I-beams are load-bearing and need to be fully supported. If a beam or column is not repaired in time, major structural problems could occur. The solution is to replace your damaged wooden beams or columns with new steel I-beams and columns from Foundation Specialist, LLC.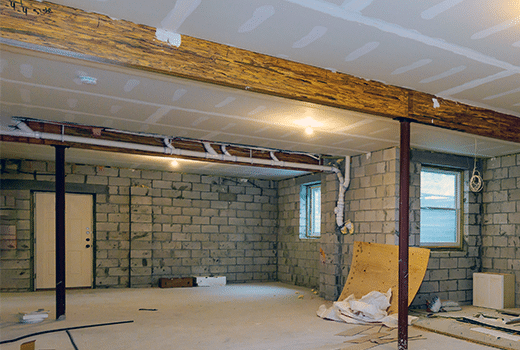 When to Replace Beams and Posts In Your Basement
How do you know when to repair or replace your basement's support posts or beams? Several factors impact the structural integrity of the support system beneath your house. A damp basement or crawl space is not good for your main wood support beams and columns. Wood absorbs moisture, which causes it to rot in different places, especially at the bottom of a wooden column. If you have this problem, you need to replace your wooden beams or columns with new steel I-beams or steel columns.
You'll need to have your columns or beams replaced when a problem with your home's foundation occurs, but many homeowners don't know what to look for. This service is more likely to be required if you live in an older home. Almost all wooden load-bearing posts and carrying beams will crack over time.
If you have cinder block supports in your crawl space, invest in a steel column. Cinder blocks are not suited for supporting heavy loads. Your existing concrete piers must also be properly sized to support your home according to engineered specifications. Many homes may not have a rotting problem with their beams or columns but could still be sinking because of improper concrete pier widths and depths.
If you notice any of the following, call our team at Foundation Specialist, LLC for support column and beam repair. Here are signs that you need beam and post replacement at your home in Michigan:
What to Expect During Your Post and Beam Repair
As a homeowner, you may be worried about how beam and post replacement can interrupt your daily life. Our Foundation Specialist, LLC team has developed effective methods for assessing and replacing your home's compromised foundation columns or beams. The process involves providing reliable temporary support while our team replaces your failing columns. We're always prepared to replace or repair your home's columns. We will always secure any necessary permits and oversee the project, ensuring quality and craftsmanship. Here's a look at what happens in a standard support beam or column replacement:
Contact Us for Post and Beam Replacement
Our team of experts can repair any support beams or columns at your home in Michigan. We have the experience you need to complete the job correctly the first time. To schedule an inspection and estimate for foundation settlement repair, basement waterproofing, or support beam replacement, you can contact our experts by filling out our contact form or calling 616-438-0551.