Waterproofing and Foundation Repair
Lowell, Michigan Waterproofing and Foundation Repair Company
Foundation Specialist is a Lowell, Michigan waterproofing and foundation repair company with over 25 years of experience working in the industry. As a homeowner, it's your job to make sure that your home is healthy and safe. So, if you have a wet basement, leaky crawl space, or some kind of foundation problem, you need to get them taken care of as soon as possible before they get worse and cause thousands of dollars in damage for you to take care of. We have a crew of seasoned experts who know what they are doing and you will be able to trust their advice when it comes to what sump pump to have installed, or what solution is going to be best for bowed basement wall repair. We have seen it all when it comes to flooded basements, severe structural problems, and all kinds of issues in between. So, rest assured knowing that your home will be in good hands with us!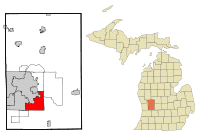 Lowell was founded as a trading post on the south bank of the Grand River in 1831 by Daniel Marsac. In 1847, he purchased land on the north side of the river and platted it as "Dansville." In 1851, a post office was named "Lowell" after the township. The community was platted in 1854 and renamed after the post office. It was incorporated as a village in 1861. Lowell is the home of a retired showboat, the Robert E. Lee.**
**Information provided by https://www.wikipedia.org
Basement and Crawl Space Waterproofing
Foundation Specialist can provide you with affordable and effective basement and crawl space waterproofing services. It doesn't matter what you use these areas of your home for – if they leak, you need to put a stop to the problem at the source before serious damage is done to your entire home. Did you know that a leak under your home can cause wooden support beams and floor joists to rot? It's true. Also, this moisture can lead to the development of dangerous mold and bacteria which could make your family sick. To take care of leaks, we can install drain systems, sump pumps, or we can even do crawl space encapsulation.
We can provide foundation repair for your wall and floor cracks, bowing basement walls, or your sinking home. Your foundation supports the weight of your entire home, so you must ensure it's in the best shape possible. We can install foundation piers for settlement problems and wall anchors and plates for problems with leaning basement walls. We guarantee that our solutions will be effective at taking care of whatever kind of structural problem your home is experiencing.
We have sump pump installers on our staff who will be able to set up these waterproofing systems in your basement or crawl space. Sump pumps work by collecting water in a sump pit or basin, and then sending it off and away from the foundation so that it can't get back inside and cause problems.
Please feel free to give us a call to learn more about our Lowell, Michigan waterproofing and foundation repair company. We look forward to talking with you soon!